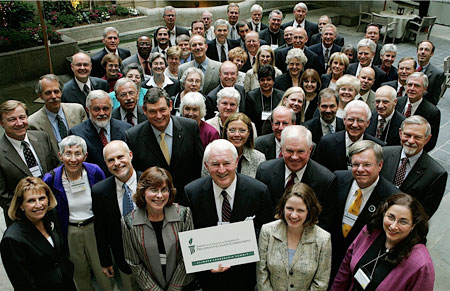 In late 2006, twelve visionary college and university presidents initiated the American College & University Presidents' Climate Commitment (ACUPCC). They were motivated by their conviction that higher education had the capacity and responsibility to lead on climate and sustainability action for the sake of their students and society.
These Foundating Signatories worked with Second Nature, ecoAmerica, and AASHE to develop the Commitment, and in early 2007 they invited their peers across the nation to join this historic endeavor.
By Earth Day 2008, the ACUPCC was a national initiative with signatories in all 50 states and the District of Columbia. In 2009, Second Nature became the lead supporting organization for the ACUPCC with additional support from AASHE. In 2010, Second Nature initiated the annual Climate Leadership Awards, recognizing ACUPCC institutions for their innovation and excellence. In 2011, Second Nature became the only supporting organization for the ACUPCC. Today, the ACUPCC continues to be a signature program of Second Nature.
The ACUPCC Steering Committee is the network's chief governing body and is responsible for guidance, policy, and direction. It is comprised of 30+ volunteers that reflect the diversity of higher education. Wim Wiewel, President of Portland State University, currently serves as Chair of the committee and Paul Ferguson, President of the University of Maine, serves as Vice Chair.
Public reporting on progress towards sustainability is a key driver for long-term success, and regular, public reporting is a central component of the ACUPCC. Reporting helps signatories learn from one another and demonstrates to external audiences the seriousness with which signatories are implementing the Commitment. As set out in the Commitment, ACUPCC signatory institutions agree to make their climate action plan, greenhouse gas (GHG) inventories, and progress reports publicly available by providing them to the ACUPCC Reporting System for posting and dissemination. Through the ACUPCC, higher education has become the only sector in the US with a critical mass committed both to the scientifically necessary goal of climate neutrality and to preparing students to develop the solutions for a just, healthy, and sustainable society.
Visit the ACUPCC website: www.presidentsclimatecommitment.org
Questions about the ACUPCC? Email acupcc@secondnature.org or 617-722-0036.