Vice President, Sustainability Strategy and Diversity, Interface Americas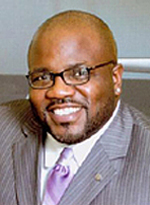 George Bandy, Jr. currently serves as Vice President for Sustainability Strategy and Diversity for Interface Americas, the Americas division of Interface, Inc. In his current role, George develops and implements the strategic diversity management initiative for Interface Americas. This involves providing strategic guidance in development and implementation of policies, procedures, action plans, and processes to effectively manage diversity in pursuit of organizational goals and objectives while seeking new business opportunities.
George is also committed to creating sustainable strategies to acknowledge and value the importance of social sustainability and diversity. The new strategy has already begun to positively affect both Interface and the communities in which Interface does business. These efforts contribute to the overall economic growth and expansion of Interface's business markets. George is dedicated to utilizing business strategies that afford the company's diverse suppliers access to procurement opportunities. As part of his strategy, George has introduced Diversity Connect™, a supplier diversity program for Interface, Inc.
George's knowledge, unique background, and relationships are instrumental in helping Interface accomplish Mission Zero™, as well as expand the growth of its modular business. He serves as a member of the Interface Xtreme Green Team, designed to advise and lead the company on sustainability. George works closely with Interface's sales and management teams to increase market share with key customers and target audiences, developing strategies for and strong relationships with a specific list of target end-user, A&D, contractor, and developer/property management accounts. In addition, he leads Interface's relationships with a number of key external organizations, including U.S. Green Building Council (USGBC), Design Futures Council, and Sustainable Business Alliance.
As Interface's former Manager of Sustainable Strategy, George also provides substantial knowledge of the concepts and practices of corporate and social sustainability. He believes that looking at opportunities to position environmental, economic, and socially responsible solutions for customers can set the standard for other businesses to follow that will result in a brighter future for us all.
Before coming to Interface, George served as the sustainable development officer for the University of Texas-Houston. His role was to educate, develop, and support the University in facility operations, construction, development, and business practices that demonstrate minimum negative repercussions on social, economic, and environmental issues in their use or application.
George routinely speaks to higher education, government, non-profit, and professional association groups on the science of sustainability, social sustainability and community involvement, and diversity initiatives.
George is currently the ex-officio chairman of the Atlanta Regional Chapter of USGBC and is a LEED Accredited Professional. He served as chairman for the maximum of 2 terms (4 years). He currently gives governance to the Atlanta Chapter Board of Directors. George also serves on the Georgia Minority Supplier Development Council Board of Directors. He serves as an advisory board member for Higher Education Network for Sustainability and the Environment and trainer for National Wildlife Federation Campus Ecology Program. Recently, George was appointed to the board of directors at the Southface Energy Institute.
He also collaborates with a number of organizations as a resource to further Interface's sustainable journey. These include The Natural Step, Second Nature, Environmental Protection Agency, International Facility Management Association, Natural Resource Conservation Commission, American Institute of Architects, Society of College and University Planners and Engineers, Associated Colleges of the South, and others.
A native of Opelika, Alabama, George is a graduate of Morehouse College in Atlanta, Georgia with a Bachelor's degree in English and a minor in Environmental Business Management, with continued sustainability studies at the University of Houston.