October 19, 2009
by Alyssa Pandolfi, Second Nature Intern
Even though transportation day isn't until tomorrow, I started my walk to and from work commuting strategy today. I was overjoyed when I woke up and saw that it was 37 degrees outside. YAY.
37 degrees = GOOD MORNING BOSTON!

I encountered my first road block this morning when cut my toe on my umbrella, which I conveniently left next to my bed last night. So, how do you use a band-aide without producing waste? Not sure. I guess it's something I can look into for future umbrella battles.
Things have been going well in the office as far as waste saving. The only things I've seen so far in the trash are paper towels and food waste. Having seen all of the paper towels that have been produced here since 9 am, I think investing in more cloth towels for the bathroom and kitchen is something the Boston office should definitely consider. Also, in regards to food waste, perhaps we could go in on getting a composting system with some of the other organizations in the building? I've looked into it and the Sustainability Committee has talked about it as well, but now would be a great time to act on it!
Check out our trash: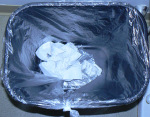 Way too many paper towels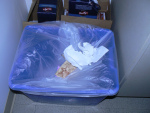 Oatmeal packet and towel paper in the kitchen.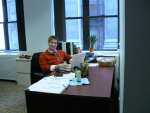 Colin wanted to know why I was going around like a private investigator and taking pictures of our garbage. Let's just say anyone planning criminal actions in the office this week should think twice.