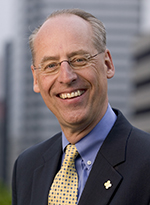 by Wim Wiewel, President, Portland State University
(This column first ran in the Portland Business Journal)
As president of Portland State University, my role is to provide the very best educational opportunities and ensure our graduates are ready for the 21st century workforce. That means exposing students to the key ideas, problems and solutions they will face after they graduate – an obligation we take seriously at PSU. I believe, as do nearly 700 of my colleagues who have signed the American College & University Presidents' Climate Commitment, that a focus on sustainability is critical to that preparation.
Yes, it's a buzzword that rankles some people. What we have found at PSU, however, is that our students learn to analyze problems from multiple points of view – economic, social, technological, environmental. They become better thinkers and ultimately better global, and local, citizens.
Think of some of the bigger debates swirling around Oregon today: Should we allow coal trains to travel through the Columbia Gorge for eventual export to China? Should we build a liquid natural gas facility on the coast? The sustainability lens on these matters doesn't reduce them to the binary good/bad, yes/no arguments that we hear so frequently. Instead, we apply systems thinking, which takes into account many other variables: Would it be better for the world if China burned cleaner U.S. coal? Would a natural gas facility produce jobs and serve as a bridge to reducing global carbon emissions?
When students tackle those difficult questions, they develop skills in determining complex trade-offs, in weighing long-term and short-term costs and benefits, and in devising creative and often low-cost solutions.
Read more