May 7, 2013
By Preston Jacobsen, Sustainability Analyst, Haywood Community College
(This article appears in the May, 2013 issue of The ACUPCC Implementer)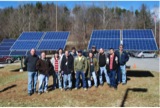 Haywood Community College (HCC) has a rich history of sustainability. When President Rose H. Johnson arrived in January 2006 she made sure sustainability was a strategic imperative for the college. In May of 2007 President Johnson signed the ACUPCC, committing HCC to the far-reaching goal of eliminating its operational greenhouse gas emissions, supporting the educational opportunities for students to advance a low carbon society and to publicly report progress on an annual basis. To support the goals of the ACUPCC and other sustainability efforts, HCC also joined AASHE, participates in AASHE's STARS program, and is a member of the Sustainability Education and Economic Development (SEED) Center. In order to be successful in its sustainability endeavors, President Johnson implemented a cross-campus team based approach to enhance and integrate educational offerings with the campus' day-to-day operations. To coordinate this effort HCC hired an Energy Manager and a Sustainability Technician to oversee the sustainability projects, grants, and initiatives of the college. In 2009, President Johnson extended her sustainability leadership beyond the campus by partnering with President Rusty Stephens and Wilson Community College to create the CODE Green Initiative. CODE GREEN is a North Carolina Community College System (NCCCS) initiative to develop and promote Sustainable programs across all 58 NCCC's through curriculum and campus development.
As HCC has advanced its sustainability initiative it has had to revise its organizational structure and job descriptions. The position of Sustainability Technician has evolved into the role of Sustainability Analyst as the college saw fit to focus more on data collection/engagement, as to better understand the immensely complex nuances an institution of this size must overcome when implementing sustainability related initiatives. Over time the Energy Manager and Sustainability Analyst were brought under the newly created department, Campus Development, to better monitor and communicate projects as they work hand in hand with Grounds, Facilities and Information Technology. Currently the Sustainability Analyst reports to the Energy Manager, creating an engaging and exciting relationship that enables the college to move forward on new projects, while being able to maintain and analyze past and current initiatives.
Such initiatives range from energy saving projects, from which the college saved over $40,000 dollars when compared to the previous fiscal year, to the reduction of GHG Emissions; 150 Metric Tons. Other notable initiatives include the college constructing Western NC's first LEED Platinum building (41,000 sq. ft.), and a Research and Demonstration House, installing numerous bio retention ponds, interpretative signage as well as the region's first Electric Vehicle charging station. With so many exciting projects taking place across HCC and within the community, we recommended checking out the college's sustainability website, www.haywood.edu/sustainability.
Past, present and future sustainability projects have led to a greater connection with nearby community colleges and private/public organizations, creating an exchange of ideas and practices. This network has led HCC to assist Central Carolina Community College (CCCC) with their Climate Action Plan formation and implementation. Having gone through the process of planning, implementing and reevaluating, HCC has been able to provide valuable insight to a neighboring institution to further sustainability related or focused practices across the region.
With the arrival of the college's new president, Dr. Barbra Parker, this July, the campus is poised to continue its in-depth connections with the community in bringing a more sustainable education and lifestyle to the region it serves. Haywood Community College is a beautiful 100 acre arboretum and the beauty is not just limited to its grounds, but also the students and employees that make it such a wonderful place to learn. We encourage you stop by and check out our wonderful living laboratory and hope our work can inspire you to become a more sustainable person within your own community.