May 7, 2013
By Richard D. Schulterbrandt Gragg, Associate Professor, School of the Environment, Chair, FAMU Environment & Sustainability Council
(This article appears in the May, 2013 issue of The ACUPCC Implementer)
The Roots of Sustainability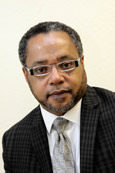 "If you're looking for a big opportunity, seek out a big problem." This guidance by H. Jackson Brown Sr. speaks to the many opportunities and challenges we have experienced at Florida A&M University (FAMU) in finding a home for the cultivation, integration and expression of our interests in environment and society. The big opportunity is to institutionalize sustainability in the context and framework of FAMU's rich and storied relationship to the environment rooted in its history, its people and community, and its recognition as a pioneering academic institution. FAMU was founded in October 1887 and is an 1890 land-grant institution 'dedicated to the advancement of knowledge, resolution of complex issues and the empowerment of citizens and communities.' The main campus is located in Tallahassee midway between Jacksonville and Pensacola; the College of Law is in Orlando. The effort to formally prioritize environmental issues and sustainability began in 2007 when the student-led FAMU Green Coalition petitioned then President James H. Ammons to create and implement a sustainability program and has culminated with FAMU becoming a 2013 signatory to the American College & University Presidents' Climate Commitment. When asked why he signed the Commitment, Interim President Larry Robinson replied: "It was the consensus of the students, faculty, staff, administration and stakeholders for FAMU to publically declare its actions and commit to an environmental leadership role in accord with our historic mission and vision in collaboration with other higher education institutions."
Institutionalization
Established and charged in 2008 by former President James H. Ammons to develop and implement an integrated strategic plan, interdisciplinary in scope, the FAMU Environment and Sustainability Council embarked upon a comprehensive and integrated approach to institutionalize sustainability and make FAMU a well-recognized green and sustainable campus. Today, council members facilitate dialogue and collaboration among university and community stakeholders on environment and sustainability issues within the framework of university administration, construction and facilities management, teaching and research, and community engagement.
Sustainability and environmental issues have become emphasized across the curriculum including agriculture, allied and public health sciences, architecture, engineering, business, law and journalism. For example, the faculty is working to add a module on environmental literacy to the mandatory Freshman Experience course and Special Topics in Public Relations: Global Climate Crisis is open to all students. Environmental Engineering Sustainability is offered in the Department of Civil and Environmental Engineering and the School of the Environment has expanding its programs to include an undergraduate degree in environmental studies, and a concentration in sustainability science. Additionally, the School of Business and Industry and the School of Architecture have collaborated to offer an undergraduate degree in facilities management.
The FAMU Board of Trustees is committed to responsible environmental stewardship in all activities associated with the university and has adopted a University Energy Policy that will promote a commitment to energy efficiency and conservation that benefits students, faculty, staff, the campus community and the environment. Trustees approved the establishment of a Student Green Fee, initiated by the Green Coalition, that will support educational, structural, research or service-learning projects to improve energy efficiency, sustainability and environmental literacy of the FAMU community and supported the April 2013 signing of the President's Climate Commitment by Interim President Larry Robinson. According to Joe Bakker, Interim VP for Administration and Financial Services and Council Co-Chair, "the integrated strategic plan will serve as the framework for implementing the FAMU-ACUPCC Sustainability and Climate Action Plan."
Special Role for HBCUs in the Sustainability Dialogue
A renowned member of the 105 historically black colleges and universities across the country, FAMU and its stakeholders, have worked together in various settings. This journey has blossomed into a vision that fuels our momentum to move forward. We are pleased with our recent selection for two years in a row to The Princeton Review's Guide to 322 Green Colleges. But for sustainability initiatives to be, well, sustainable at FAMU, there must continue to be top-down and bottom-up commitment. We need to engage even more faculty, staff, students and administrators in championing transdisciplinary collaboration and sustainability initiatives, especially as some of us graduate or retire. We are not there yet, but we are striving to embrace sustainability and a commitment to addressing the challenges of global climate change as the compass for an integrated teaching, research and community service agenda at FAMU. With census projections that minorities will soon account for half of the nation's population, it is vital for minority-serving institutions to operate in the fullness of their purpose. In essence, we at FAMU are committed to producing a cadre of STEM scholars, social entrepreneurs and workforce professionals who bring a diverse cultural lens to sustainable community solutions. This vision founded our existence, fuels us today and will guide us in the future.