October 4, 2013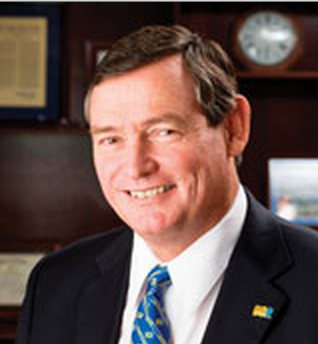 by Timonthy White, Chancellor, California State University System and Chair of the ACUPCC Steering Committee
The ACUPCC is entering its 7th year in full force. Today, this network—comprised of 673 colleges and universities—represents 6,413,193 students. And as it grows, these institutions continue making remarkable progress towards addressing sustainability and climate issues on their campuses across the country, both in institutional operations and curriculum development. To date:
Collectively, ACUPCC signatories report an annual cumulative reduction of 328,698 metric tons of CO2e emissions. In addition to producing a combined 444,300,134 kWh of renewable energy annual, which is the equivalent of powering 46,928 American households every year.
Three signatories—College of the Atlantic (ME), Colby College (ME), and Green Mountain College (VT)—have achieved carbon neutrality, and 44 more have set a target date within the next ten years .
More than 180 signatories have established programs to encourage student climate and/or sustainability research, 82 signatories have included sustainability learning outcomes in institutional General Education Requirements, and 108 signatories offer professional development to all faculty in sustainability education.
Collectively, 144 signatories have secured funding from outside sources totaling over $309 million, and 209 signatories reported savings from implemented CAP projects totaling $144.5 million.
For more details on progress made by the ACUPCC, read the latest Progress Summary of June 2013.
The ACUPCC remains a high-visibility effort not only in the higher education sector but also in the national scene. In July, Second Nature received the EPA Environmental Merit Award, given by the New England Region of the U.S. Environmental Protection Agency. This award was given in recognition of the significant contributions and commitment by the ACUPCC to accelerating the education, research, and community engagement needed to equip society to re-stabilize the earth's climate, and eliminate net greenhouse gas emissions from their own operations.
I am also pleased to announce the 2013-2015 ACUPCC Steering Committee and welcome 8 new members on the Committee:
Esther Barazzone, President of Chatham University
Nancy Gray, President of Hollins College
Dianne Harrison, President of California State University, Northridge
Jonathan Lash, President of Hampshire College
Linda Lujan, President of Chandler-Gilbert Community College
Mariko Silver, President of Bennington College
Bryan Albrecht, President of Gateway Technical College
Steven Knapp, President of George Washington University
Many thanks to President Jack Calaresco (Anna Maria College), President Emerita Rosalind Reichard (Emory & Henry College), President Verna Fowler (College of Menominee Nation), Chancellor Emerita Mary Spangler (Houston Community College), and President Emeritus Richard Torgerson (Luther College) for their invaluable service and support these past years.
It is an exciting time for the 2013-2015 ACUPCC Steering Committee as each member comes with such talent and expertise to help guide the ACUPCC as it enters a new phase of progress and growth. Additionally, with all kinds of institution types - large and small; public and private; two-year and four-year; research, liberal arts, and technical; Historically Black Colleges and Universities, Tribal colleges, and Hispanic-Serving Institutions - the ACUPCC Steering Committee embodies a broad representation of the higher education sector in the U.S.
The ACUPCC Steering Committee convened on September 25th-26th to discuss the directions the ACUPCC will take going forward. The theme of this meeting and for the next year is Presidential Leadership – publically, in the increasingly vital national debate on climate change and its impacts, and institutionally, as we mobilize our institutions to meet our emissions reductions goals and become resilient in the face of unavoidable climate impacts.
On behalf of the ACUPCC Steering Committee, I would like to welcome the new signatories that have joined the network this year, and also thank all the presidents and chancellors, as well as their implementation teams for their hard work to make the ACUPCC successful. Only with your leadership, hard work and perseverance, has this initiative been able to thrive over the years.
While the achievements and leadership of this collective effort are tremendous and unprecedented, there is undoubtedly more work to be done. The continued, active leadership of presidents and chancellors is essential to ensuring that the ACUPCC remains a strategic priority for your institution, and that implementation teams have the resources and support they need to be successful in addressing the climate crisis. The Steering Committee and I look forward to continuing the ACUPCC's positive momentum in creating a better future for all.