December 17, 2013
Plains, Trains, and Sustainability: Regional Collaborations with UMACS and NWF Campus Ecology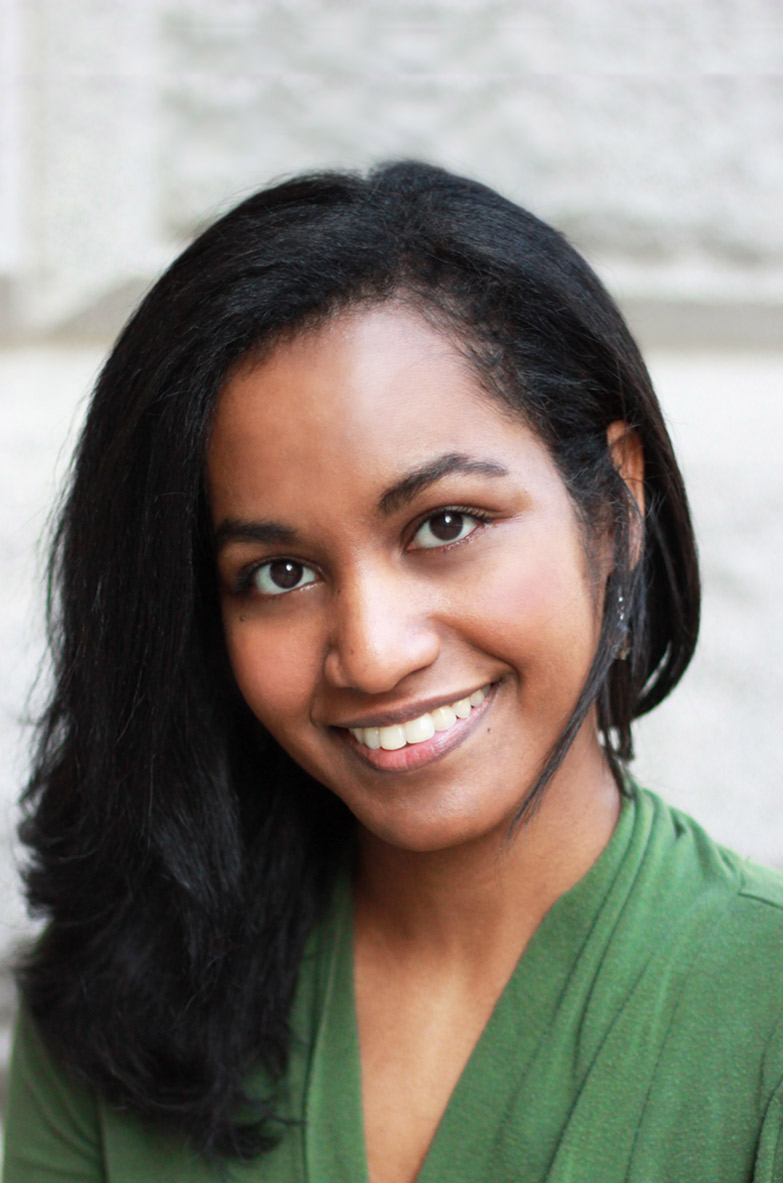 By Axum Teferra, Kresge Membership and Engagement Fellow
This year, Second Nature partnered with the Upper Midwest Association for Campus Sustainability (UMACS) and National Wildlife Federation- Campus Ecology (NWF) for Second Nature's first Midwest Regional Collaborative Symposium.The event took place from November 7th-9th, 2013 at Luther Collegein Decorah, Iowa, and integrated an ACUPCC (American College & University Presidents' Climate Commitment) Pre-Conference for both signatory and non-signatory institutions.
Second Nature staff members chose to ride the rails from Massachusetts to Iowa in order to minimize the group's carbon footprint. This 32-hour train ride took the team through many states and landscapes, ending at Luther College in Decorah, the Iowa town nestled in a 470 million year-old crater.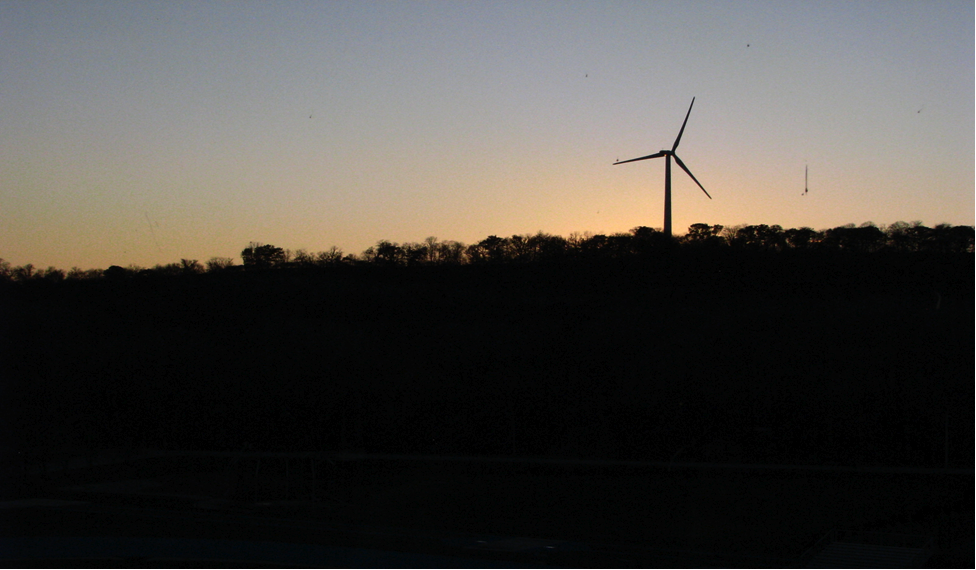 View of wind turbine adjacent to the Luther College campus in Decorah, Iowa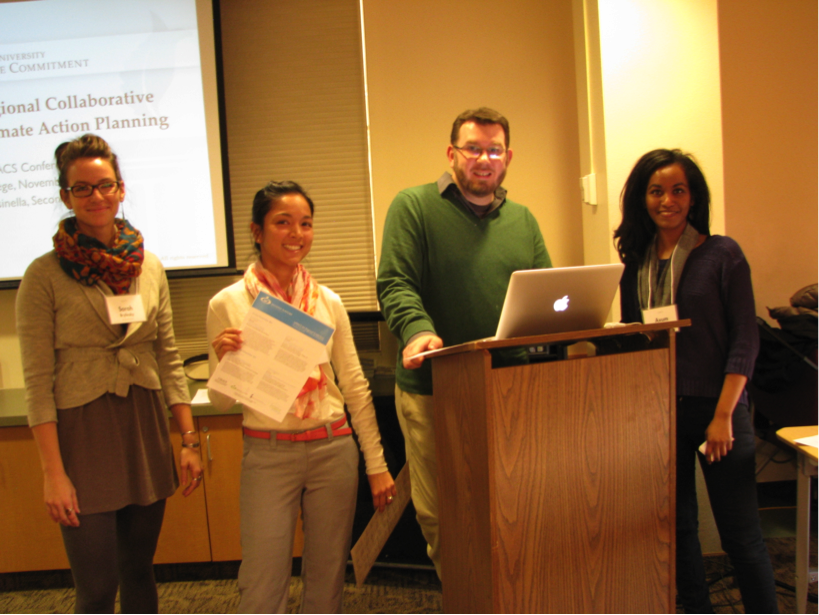 Second Nature Staff
A key goal for Second Nature's ACUPCC Initiative is to develop a learning community that fosters collaboration and sharing of best practices, so that all colleges and universities can strengthen institutional capacity and move toward achieving climate neutrality. Through our partnership, Second Nature, UMACS and NWF Campus Ecology advanced the three organizations' sustainability efforts by jointly recognizing the progress and acceleration of innovation made on campuses in the Midwest.
Nearly 200 faculty, staff and students attended the conference, and represented around 40 different institutions from the region.
Pre-Conference Event
The Pre-conference event kicked off the weekend's activities with a Climate Action Planning (CAP) workshop and a networking breakfast. The CAP workshop was designed as an interactive platform, and entailed in-depth discussions of the Climate Action Planning process. Participants collaborated with one another as they brainstormed and developed solutions to challenges they face on campus. The networking breakfast created a space for attendees to engage in lively discussions with other campus sustainability champions and to learn more about the resources available to support implementation.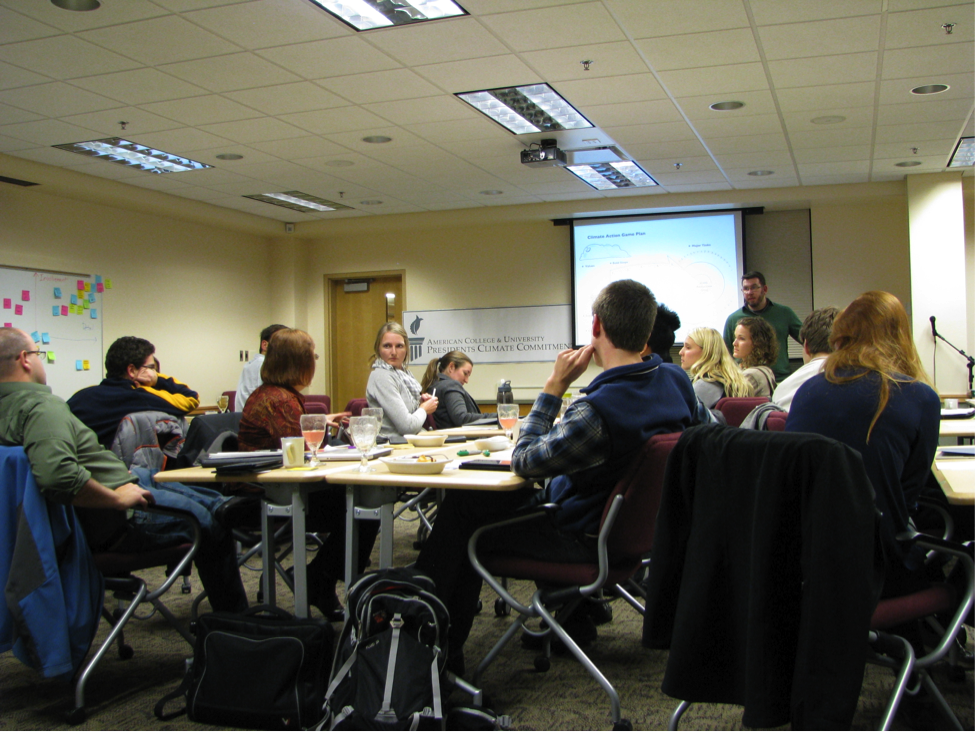 ACUPCC Pre-conference event: group discussion during Climate Action Planning workshop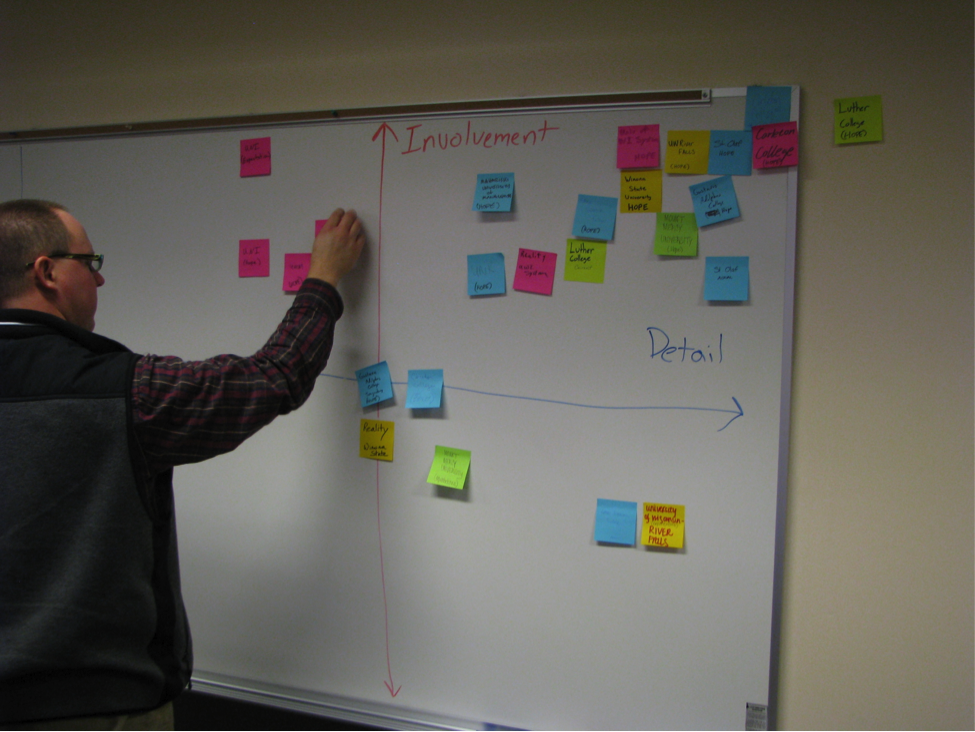 ACUPCC Pre-conference participation in the climate action planning workshop
Opening
The main UMACS conference event began with introductions by Luther College and the three hosting organizations. Subsequently, John Farrell, Director of Democratic Energy at the Institute for Local Self-Reliance, provided a data-filled and systems-focused presentation on the great potential for community-generated renewable energy. The talk, titled Campus Power: Tapping Local Energy for a Sustainable Future, was followed by a tribute from UMACS to John's father, the late James Farrell, Professor of History at St. Olaf University and author of several noted sustainability books.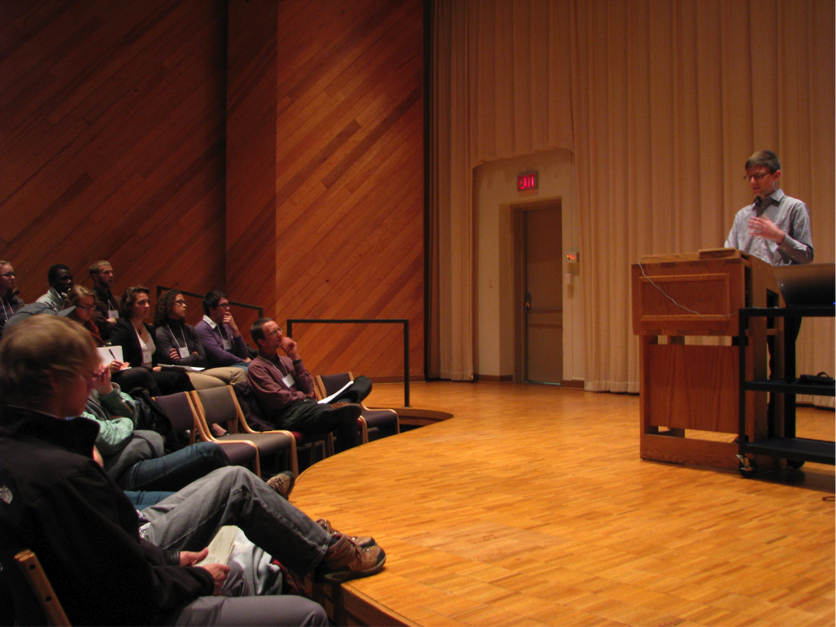 Plenary speaker John Farrell on "Campus Power: Tapping Local Energy for a Sustainable Future"
Keynote
The evening's keynote speaker was Chad Pegracke, founder and president of Living Lands and Waters, a river cleanup organization, and CNN's 2013 Hero of the Year. Chad shared stories of his upbringing along the Mississippi River and how his love for the River motivated his efforts to remove the massive amounts of industrial pollutants dumped and accumulated over the span of decades. The talk, "Helping to Clean America's River: From the Bottom Up" was highly energetic and interactive, leaving attendees feeling both inspired by his story and driven to take action.
Conference Events
The main event consisted of five concurrent sessions, which included a variety of workshops and presentations. Second Nature hosted and facilitated four different interactive workshop sessions, featuring the successes of ACUPCC signatory institutions. Additionally, there were forty presentations given by conference attendees, ranging from case studies to technical skills building sessions.
A poster session provided space for the visual representation of sustainability projects and research being done on different campuses. Presenters were able to engage more deeply in conversations of their work with attendees of the session, enriching learning and information exchange at the conference.
The last day of the conference included a dynamic and reflective plenary talk by Chancellor Jacqueline Johnson of the University of Minnesota- Morris. As a sustainability leader in higher education-- and an ACUPCC Steering Committee member-- Chancellor Johnson shared her perspective and experience in the field, and encouraged attendees to continue being visionaries as they return to their campuses.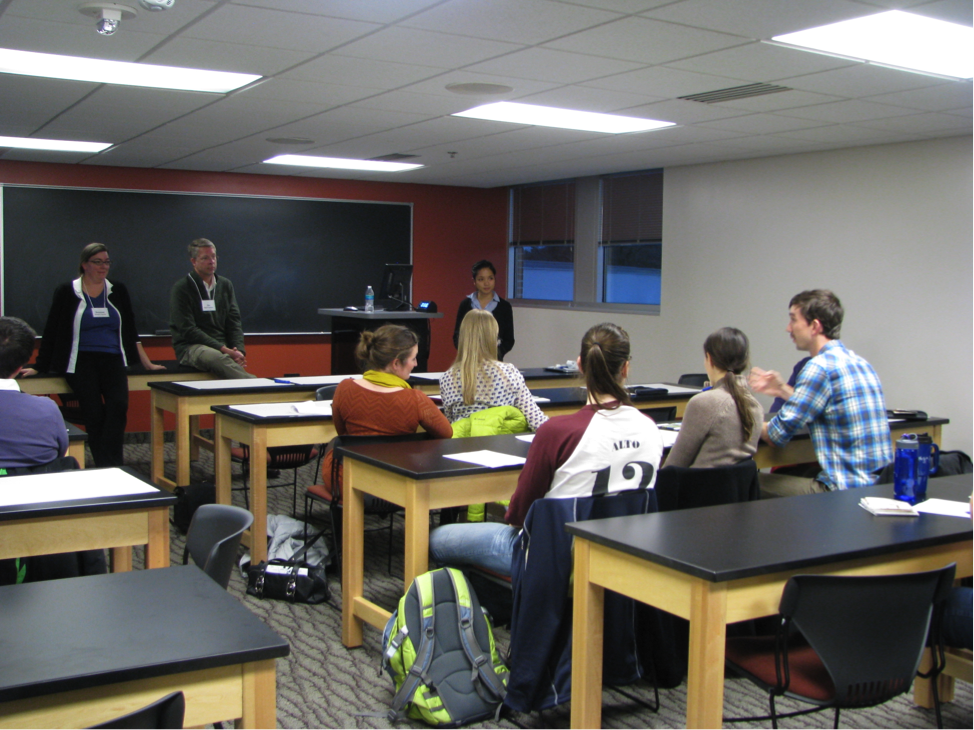 Workshop: Institutionalizing Sustainability on Campus, featuring Delta College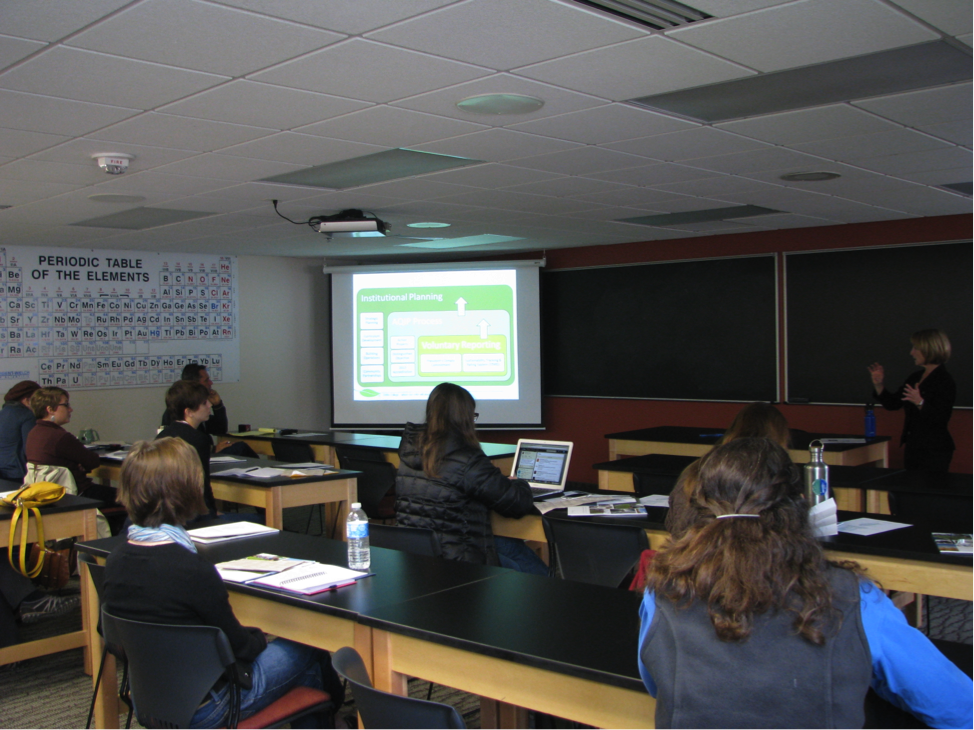 Workshop: Energy Efficiency: Measure, Manage, Mitigate and Master, featuring Macalester College and Luther College
Summary
It was an exciting three days of collaboration and learning for Second Nature and the sustainability champions of the Midwest. We want to thank UMACS and NWF Campus Ecology for this strengthened partnership and successful conference. We also thank Luther College for hosting the event, demonstrating essential elements of a sustainable campus, and providing attendees with an outstanding vegan menu full of foods sourced from campus and local farms.