March 21, 2014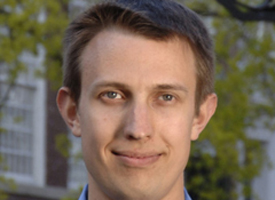 By Mark Orlowski, Founder & Executive Director, Sustainable Endowments Institute
In April, a new tool will be launched to help colleges achieve their ACUPCC goals through streamlined tracking and calculation of project-level energy, financial and carbon data. GRITS 1.0 (Green Revolving Investment Tracking System) is a breakthrough web platform that provides real, accessible, shareable data to unite management of both financial and environmental project performance.
Developed by the Sustainable Endowments Institute, an ACUPCC and Second Nature partner, GRITS offers a necessary bridge between managing and reporting, creating the space for schools to track, analyze and share information on specific projects or groups of projects--well beyond the capabilities of spreadsheets.
NEW ACCESS + WEBINAR
The GRITS 1.0 tool is the culmination of more than two years of internal development and guidance from colleges and universities across North America. These schools benefited from using GRITS beta to manage their green revolving funds (GRFs)--an innovative financing mechanism to recapture cost savings from energy and resource efficiency projects. More information on green revolving funds is available on The Billion Dollar Green Challenge website.

Many schools in the United States and Canada have requested access to the GRITS web-based platform to better track project-level energy, financial, and carbon data. In response, the Sustainable Endowments Institute is now opening GRITS 1.0 to all schools in North America through the GRITS Affiliates program (whether or not they have green revolving funds).
In collaboration with Second Nature and the ACUPCC, the Sustainable Endowments Institute will host a webinar to provide a special preview of GRITS 1.0 and the GRITS Affiliates program before its public launch. The webinar will take place on Thursday, April 10 at 2:00 PM EDT. To RSVP for the free webinar, please visit GRITSaffiliates.eventbrite.com.
ADVANTAGES
Regardless of the current phase of your Climate Action Plan, GRITS 1.0 will enable you to better highlight your specific carbon reduction results and financial savings. Distinctive advantages include:
Accessing and learning from the field-tested projects of peer schools (the Project Library currently has more than 200 projects and is expected to triple in size this year).
Facilitating on-campus investments in efficiency projects by enabling fund administrators to easily and clearly communicate with diverse stakeholders.
Simplifying calculation of project-specific exact carbon savings on annualized and estimated life-of-project timeframes.
Providing a toolkit of options for visuals and snapshots of cumulative environmental and financial impacts.
Creating customized reports that tell the story of both realized and anticipated project performance.
INSIDE GRITS
The GRITS 1.0 web interface is structured to be simple and straightforward. As an illustration, the following graph--generated by GRITS--shows how all projects in Denison University's Green Hill Fund (their green revolving fund) helped abate emissions over the defined time period. Specifically, Denison's investment in lighting and HVAC projects in 2011 and 2012 has led to an annual reduction of 1,874 metric tons of carbon dioxide equivalent emissions. Based on the financial savings generated, Denison plans to invest in more energy efficiency projects and continue progress toward their commitment of carbon neutrality by 2030.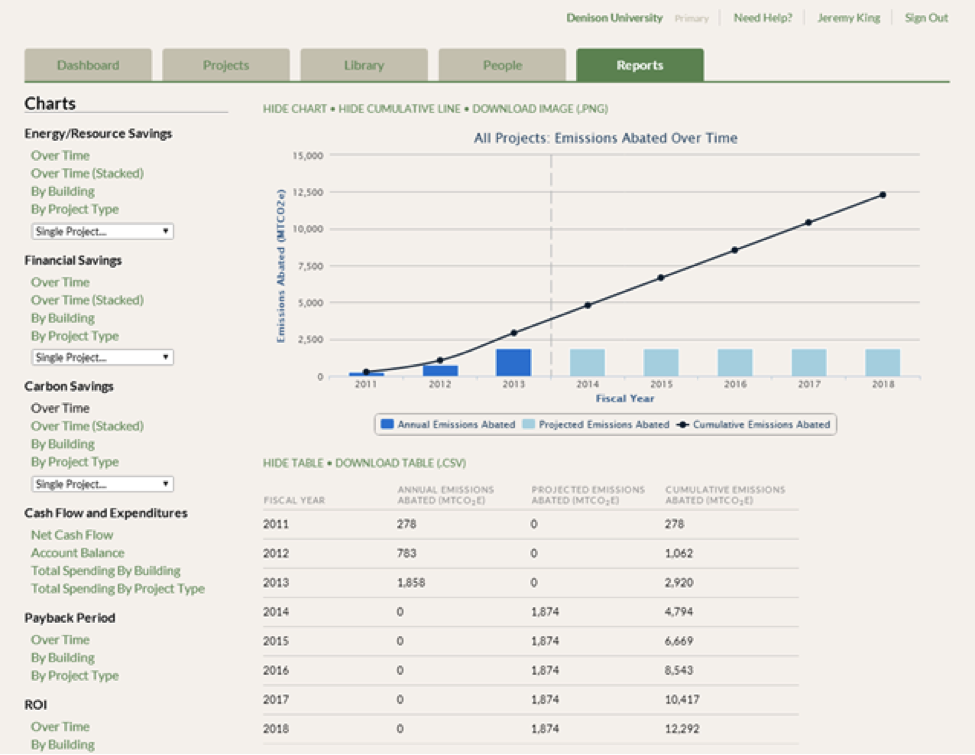 To learn how GRITS 1.0 can support meeting your ACUPCC carbon emissions reduction targets, please RSVP for the free GRITS 1.0 webinar on April 10.